How to use TeamGantt project templates
Starting a new project with a template is easy! Here's how:
1. Go to My Projects (in the left sidebar menu) and select New Project > Create a New Project.
2. Click the Template field to open the full template drop-down list and choose a template. Or, click the Preview templates link to see what the different templates look like before choosing one.
If you select the Preview templates link, a new window will pop up. Select a template option from the list on the left to see a preview on the right.
Then, click Use Template to apply the template to your new project.
3. Once you've chosen a template, enter a start date for your project. If you leave it blank, the project start date defaults to the current date. You can also choose which days of the week you'd like to include in your project.
4. Choose the details you want to import from the template. (Note: We recommend enabling all import options if you're using one of our pre-built templates for the first time.)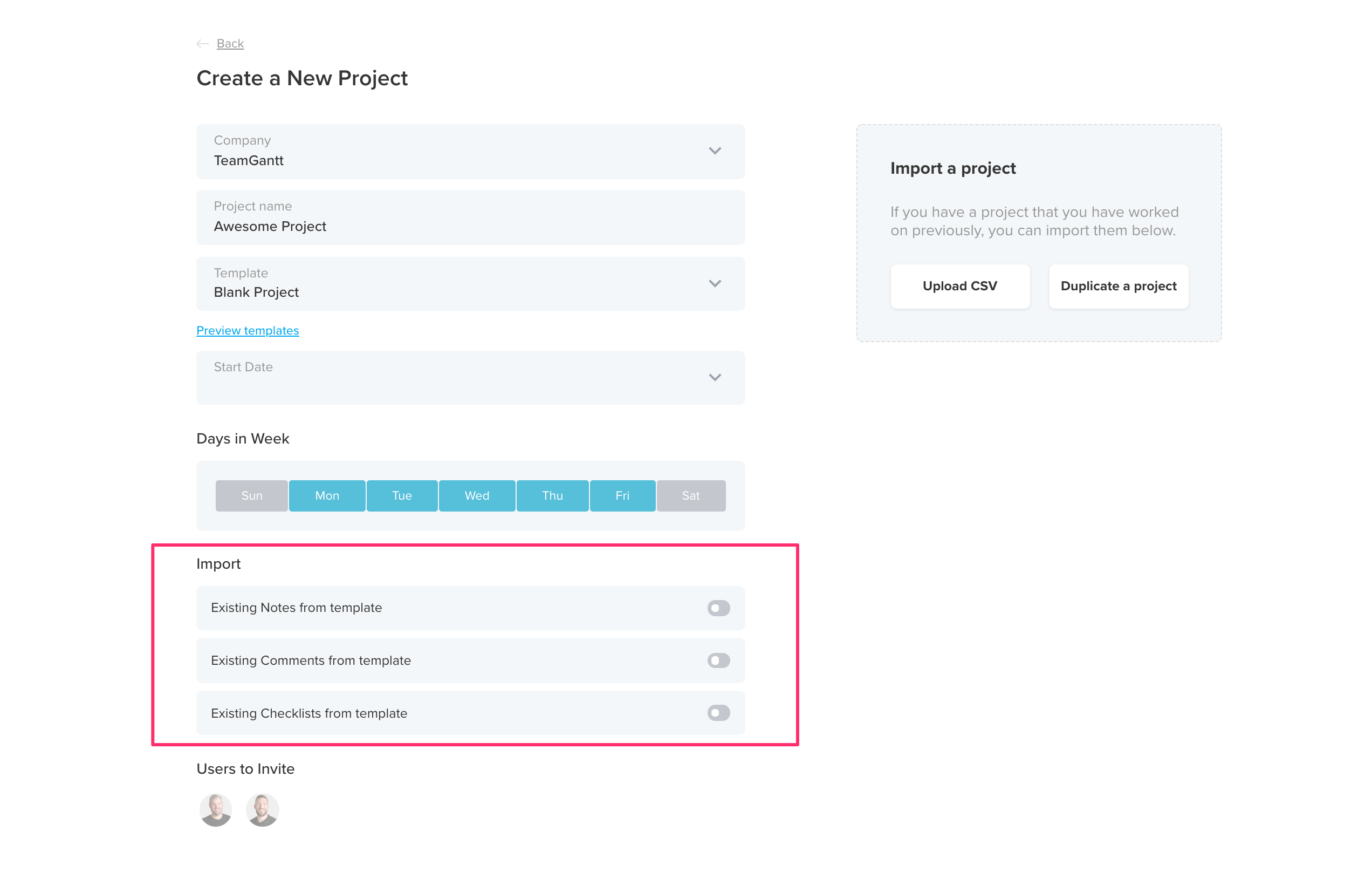 5. Complete the rest of the new project details, then click Create new project to go to your gantt chart.
---
Use a custom template
If you create the same kinds of projects over and over again, you might want to save your project as a template so you can save time on future setup. That way you don't have to build a project from scratch every time.
Here's how to save a project as a template:
Open the project.
Go to Menu > Save as Template.
It's as simple as that!
Once you've saved a project as a template, you can access it anytime under My Templates in the Templates drop-down or under Team Templates on the templates hub page when creating a new project.
---
Use a pre-built template
Ever wish you could speed up the project planning process? Good news! We're now offering pre-built templates in the following categories:
Getting Started
Marketing & Design
Development & Engineering
Industry-specific
Admin
Personal
Access pre-built templates anytime under Default Templates in the Templates drop-down or under Project Templates on the templates hub page when creating a new project
Here are the gantt chart templates available at your fingertips now:
Blank Project: This one's been a standard go-to in TeamGantt for a while now, but it's worth mentioning. Start fresh with an empty project you can make your own. The possibilities are endless!
Basic Project: This template has also been available as an option on TeamGantt for a while. We've plugged in some basic project elements so you can get a jumpstart on project planning.
Get Started with TeamGantt: If you're new to TeamGantt, this is a great place to start. More tutorial than template, each task walks you through a simple action so you can learn how TeamGantt works before diving into your own project.
Website Design: Use this template for agency web projects or websites that go beyond the basics. You'll find tasks for video and photography, plus milestones for client review and approval.
Website Design (Simple): Plan your website without extra bloat using this template. Keep your plan simple, or build it out to cover your project bases. This one's perfect for internal web projects.
Content Calendar: Many creative teams publish a steady stream of content and are always on deadline. This gantt chart example is structured like an editorial calendar so it's easy to see what's coming up next on the schedule.
Blog Content Calendar: A blog calendar is an organized plan for publishing content on your blog. This helps you establish a regular posting schedule and strategize topics so content stays fresh and engaging.
Video Production: Create videos right on schedule with ready-made tasks that take you from pre- to post-production.
Event Plan: Use this template to stay on top of all the little details for your next corporate event. Keep all your tasks organized and on track so every event you plan goes off without a hitch.
Conference Event Plan: Make your conference a big success! Use this template to plan and manage all the logistics that go into a large-scale event.
Event Marketing & Promotion: An event won't be successful if no one shows up. Use this gantt chart example to boost registration and attendance numbers before your event.
Digital Marketing Plan: Build out every aspect of your digital marketing strategy in one easy-to-use plan so you can turn your vision into action and keep stakeholders in the loop.
Strategic Marketing Plan: Writing your first marketing plan can feel daunting, so this example gives you an easy place to start. It lays out the tasks you'll need to tackle to develop a solid marketing plan, with space to document high-level strategic objectives.
Social Media Schedule: Build out your social media calendar with this easy-to-use template. Schedule posts for each day of the week across all your social media channels.
Social Media Strategy Plan: Get your social media strategy off the ground with this template. It's the perfect place to plan and track your major social campaigns.
Digital Marketing Campaign: Launch and execute your next digital campaign by creating a streamlined plan across all your important marketing channels.
Tactical Marketing Plan: Schedule and track the key tasks that need to get done to ensure your team hits your marketing goals right on target.
Marketing Schedule: Track go-live dates for important marketing deliverables by creating a simple schedule your team can share.
Software Development Plan: Taking a hybrid approach to a software project? Use this simple template to track Agile sprints without losing sight of the timeline.
Product Roadmap: Strategic planning is just as important as sprint planning. This gantt chart sample enables you to lay out a long-term strategy for your software product so you can communicate and keep track of product goals and initiatives.
Bug Tracker: If you use a gantt chart to plan software products, why not use it to track bugs too? This example gives your team an easy place to submit bug reports so developers can get to the bottom of issues quickly.
Product Backlog: Keep a running list of user stories, feature enhancements, and software bugs so you can continue to make your product better.
Construction: Break ground on your next construction schedule with this quickstart template. Keep your plan high-level, or dig into details with a full project build-out.
Weekly Task List: Make setting up your weekly to-dos a breeze with this simple task list template.
Out of Office: Create a shared space for your team to log vacation and sick days so it's easy to track paid time off and everyone's in the loop about team availability.
Moving Plan: Keep a running list of all the to-dos that go into moving, and create a schedule you can stick to so you have plenty of time to get it all done.
---
Have a suggestion for a new template or want to submit one of your projects as a template for other users? Email Kelsey at kelsey@teamgantt.com!
---
To learn more about TeamGantt, join us for one of our free classes!