Do you have a process you use over and over again? Or do you find yourself consistently duplicating the same project? Maybe many of your projects have similar key elements but just need minor changes.
If any of those apply to you and your projects, creating a template can save you a lot of time on setup! Let's walk through how templates work in TeamGantt.
---
How to save a project as a template
In TeamGantt, you can use a template as many times as you want. That way you don't have to build a project from scratch every time. It's also a great way to duplicate a project.
Here's how to save a project as a template:
Open the project.
Go to Menu > Save as Template.
---
How to create a new project from a template
Once you've saved your project as a template, you can use it to jumpstart setup next time you create a project. Simply follow these steps:
1. Go to My Projects (in the left sidebar menu) and select New Project > Create a New Project.
2. Click the Template field to open the full template drop-down list and choose a template. Or, click the Preview templates link to see what the different templates look like before choosing one.
If you select the Preview templates link, a new window will pop up. Select a template option from the list on the left to see a preview on the right.
Then, click Use Template to apply it to your new project.
3. Once you've chosen a template, enter a start date for your project. If you leave it blank, the project start date defaults to the current date. You can also choose which days of the week you'd like to include in your project.
4. Choose the details you want to import from the template.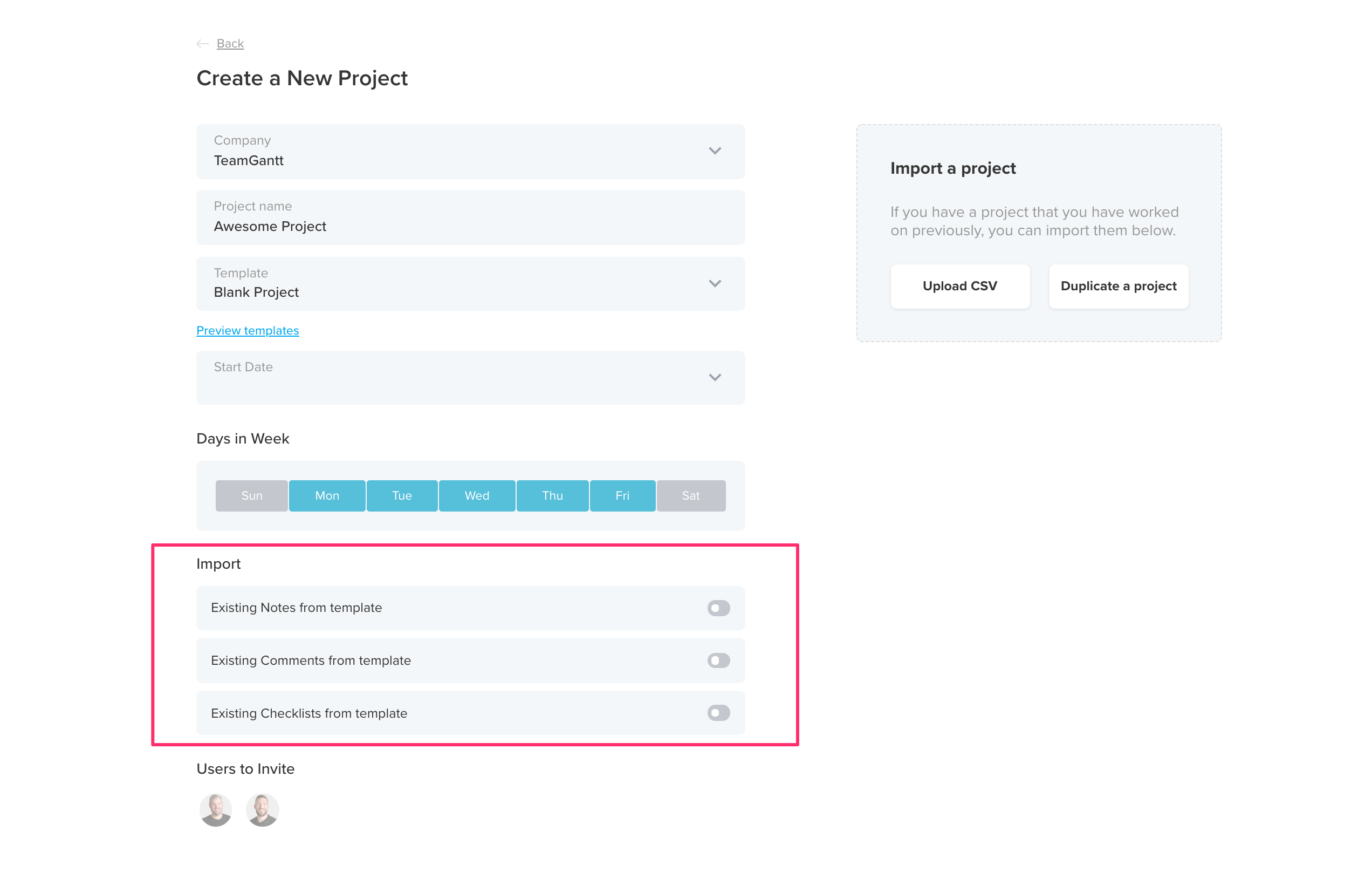 5. Complete the rest of the new project details, then click Create new project to go to your gantt chart.
---
Can you edit or delete a template?
A template is connected to the project it is saved from. To edit or delete a template, you simply need to edit or delete the original project you used to create the template.
Keep in mind that you must have Admin permission in a project in order to delete it.
---
Template tips
When you create a template, it adds a project to your account. If the template's status is set to Active or On hold, it will count toward your allowed plan totals. Changing the status of your template to Completed will enable you to use the template for new projects without it counting toward your total active projects.
Creating a new project from a template is currently the only way to duplicate checklists.
To create a new project from a template, you must have Account Holder or Advanced User permission on the account and must be invited to the original project.
---

To learn more about TeamGantt, join us for one of our free classes!